Do you remember where you were when Scotland rose from the dead against England at Twickenham in 2019 and drew 38-38? Most rugby people do, Pierre Schoeman among them.
The big man was at home in Edinburgh baby-sitting WP Nel's children. Not yet qualified to play for Scotland, he watched them watching their father. And, as much as the match had an unforgettable quality, so too did the reaction of Nel's kids whenever the old man came into view.
That's something Schoeman wants for himself one day, God willing. Faith being an important part of his life, it's a theme he returns to often. As is Nel. He's drawn to him like a magnet.
Thirty-six going on 37, Nel is not just a team-mate and a friend of Schoeman's but also, you sense, an inspiration.
"He's very resilient in his body and his mind," he says. "Good energy, works hard, natural strength. Farmer's strength, you know? A different breed. Such a clever scrummager. Knows all the tricks.
"I told him before, I think he can have another two or three years. Some Bible scriptures, beers, red wine and that body will fly. He has four kids now. Impressive. Don't ever let your missus walk past his house. If the wind changes direction, she might end up pregnant."
Schoeman is taking in the view at an empty Murrayfield. It's eerily quiet, but he says he can still feel the atmosphere. He's beaten England, Australia and Argentina out there. He's come close to beating New Zealand. Joy and pain. Memories.
Since qualifying on the residency rule, he has played in every one of Scotland's last 16 Test matches. The lusty roars of the Edinburgh and Scotland fans – 'Scooo!' – can be heard every time he carries ball into the heart of enemy territory, as he did on an astonishing 21 occasions in a recent Champions Cup game against Saracens. He's bang in form.
Test number 17 will come on Saturday against England. He's one from one in the Calcutta Cup. He only played half an hour of the victory on the opening weekend of the championship last year, but he could talk for three times as long about what it was like at Murrayfield that day.
What will it be like on Saturday in those minutes before walking out into Twickenham, united as a team in one sense but each man alone in another?
"Before a match, I tend to put on some nice music. For me, worship music but also some heavy stuff because we have to go there too. You need to go into a zone. You feel emotion, but emotion means different things to different people. Fear can do something different to you than me. Or anger. A lot of calmness might mean focus to you, but for me, too much calm means maybe I'm soft.
"I'll feel confident and that comes from the prep work. Are you clear on your detail? Did you do your extras? Did you train well, eat well, recover well? Did you attack the week? The motivation is there and the ability is there otherwise you wouldn't have made it this far. It's just about focus.
"I'll be saving my energy for when the moment needs it. You can bash walls if you like, but you're going to need every ounce of energy, so better not waste any. It's very exciting, but there's fear. Fear, but not doubt. Doubt is wrong, fear is good. Fear keeps you on edge, keeps you thinking about the next job and the job after that. If you have doubt then your whole week has been wrong."
Making every second count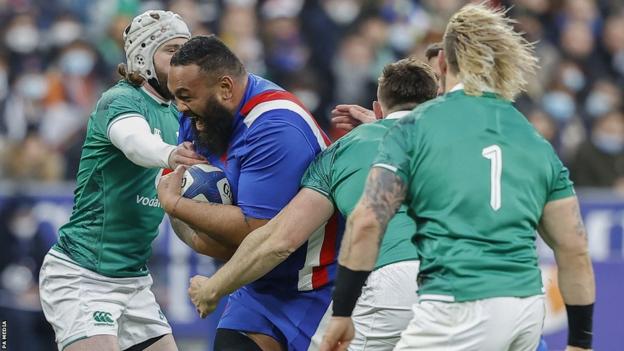 Schoeman was struck a while back by something a former Scotland player said about how quickly all of this passes. One minute you're living the life and playing games in front of packed stadiums and in the relative blink of an eye it's over and you're watching on from a distance as if it was all some weird dream.
The point was that each player has to make every second count and it was a theme that hit home. "There's not a lot of time left," he says. "Do everything you can while you have the opportunity. The fans need to see something now. We all need to see it."
The loosehead is going to come up against some of the best tightheads on the planet in the coming weeks. Guys with more experience, guys who have won things, gnarled pros who are masters at spotting and exposing weakness in an opponent, be it physical, technical or mental.
Given the position they play, the sheer brutality of it, there's respect there for every rival. Every prop can tell a rites of passage story about having their backside handed to them on a plate. Those memories never fade.
Tadhg Furlong, who Schoeman will face in round three when Ireland come to Edinburgh, is one of the world's great prop forwards, but he almost takes glee in recalling the biggest lesson he ever learned – an absolute doing he received in his early years playing in a club game against an old boy who knew the ropes.
Schoeman is no different. Humility tends to be beaten into a prop. "I've respect for every single player I've ever scrummaged against," he says. "All of them. If you're not switched on, they will come for you, so you'd better be ready. If one is hungrier than the other and beats you to the chase then that's your image with a dent in it.
"Every year there is a new one. They come through the ranks and they all want it. I always say, if you want to be number one, you have to train like number two. You can only rely on talent for so many years."
The rest, he says, is about hard work, living right, being a good professional, wanting it more than the next guy. The problem with the Six Nations is that everybody wants it every bit as much as he does.
He lauds his probable opponents one by one and settles on the gigantic Uini Atonio of France as the most fearsome, not just because he's a ferociously large unit but also because he's always got another ferociously large unit behind him as his second-row. That's a 25st prop and a 20st lock coming at you. "Really nice on the neck disc, that."
Desperate yearning for Scotland success
Positivity is essential in this Six Nations, Schoeman says. As long as it's not fake positivity. "You'd better believe it." Or else…
There is a desperate yearning for progress in Scotland. Not just chat about progress. There's been way too much of that over the last 23 years.
We're talking about actual progress with a real life tilt for the title attached. Only a win in Twickenham and another win against Wales in Edinburgh the week will give Gregor Townsend's players the momentum they need.
"You have to be honest enough to say that bad things will happen in games, negative things will come your way," Schoeman says. "Mistakes will be made. Nobody wants to be on the wrong side of that, but it's just how you deal with it.
"The game isn't done until it's done. Gregor always says that we're playing to make a nation proud and that's the message again going to England."
Schoeman has no kids to mind this time. Nothing about Twickenham will be child's play. Growing up in South Africa, he thought that the greatest rugby and the greatest rugby tournaments all took place in the land of his birth. Now he knows he was wrong.
"I knew the Six Nations was big, but last year told me how big it is," he adds. "Outside of the World Cup, there's nothing bigger, is there? Nothing's bigger than this."