Former Ireland captain Rory Best has warned that Andy Farrell's side must take Scotland "seriously" if they are to move a step closer to securing the Six Nations Grand Slam.
Speaking on the Ulster Rugby Show, Best said that Ireland must approach the game in a professional manner.
"If they don't take Scotland seriously everything is gone," he said.
"If they don't focus, the Grand Slam is gone and Scotland potentially have the upper hand going into the World Cup."
Ireland take on Scotland on 12 March at Murrayfield hoping to extend their winning sequence to four matches in this year's Six Nations.
The sides will meet in the World Cup later in the year as they have been drawn together in Pool B alongside South Africa, Tonga and Romania.
Best helped Ireland to the Grand Slam and Triple Crown in 2018, and believes that Andy Farrell's management style will enable them to perform to their full potential when the pressure is on at Murrayfield.
"This current team are so confident in their preparation and comfortable in their environment. Andy Farrell is very good at making them uncomfortable at different times, so when they get to big moments and pressurised moments, he can then make them more comfortable.
"He was relishing people dropping out late as it makes others uncomfortable, but I would say now in the next couple of weeks, he will want to make it more normal so that when that pressure comes, they will be fully prepared" he said.
"They are like robots"
Tommy Bowe, who played with Best when Ireland won the Grand Slam in 2009, feels that the winning mentality within the squad will dampen any nerves and will be prove to be crucial in their bid to win the biggest prize.
"I think this team are used to winning. The majority of them play for Leinster and Andy Farrell has got such a good bond among that group.
"They are like robots, they don't need motivated, it is a job for them," he said on the Ulster Rugby Show.
Ex-Ulster hooker Best foresees an Ireland victory in Edinburgh, despite Scotland's impressive performances so far in the tournament.
"Ireland are one of the best teams in the world, so when they get wins and momentum they are capable of beating anyone.
"In saying that, Scotland will be tricky. They can beat anyone with Finn Russell and Scott Hogg, but I think Ireland have too much power for them and will ask too many questions of the Scotland defence," he added.
Sexton return vital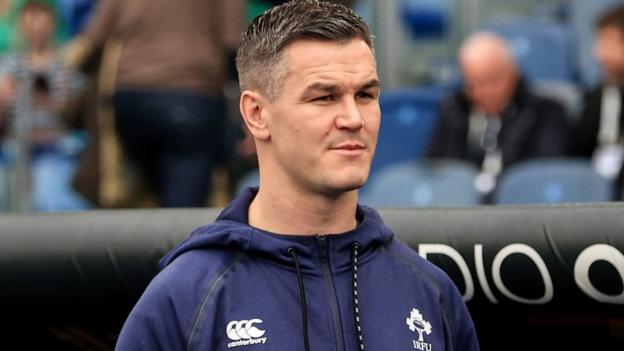 Best also hopes that the anticipated return of Johnny Sexton can help Ireland to deliver a more complete performance than they did against Italy.
"I still think, and I know it is boring, but when Johnny Sexton doesn't play, Ireland always look a bit disjointed," he said.
"When you look at the last 12-18 months and the run of games he hasn't played in, Australia and Fiji in November for example, Ireland weren't really firing and they're the same now without him."