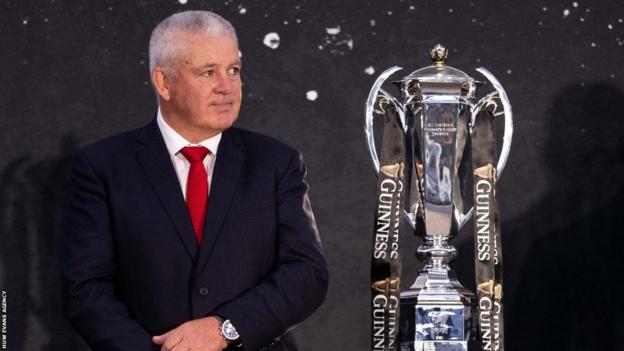 Venue:
Principality Stadium, Cardiff
Date:
Saturday, 4 February
Kick-off:
14:15 GMT
Coverage:
Watch live on BBC One, BBC iPlayer and online from 13:15 GMT; listen on BBC Radio 5 Sports Extra, BBC Radio Wales, BBC Radio Cymru & BBC Radio Ulster; text commentary on BBC Sport website and app.
Popular wisdom may say never go back – but Warren Gatland has rarely been one to follow convention.
The New Zealander is preparing to embark on a second stint in charge of Wales that starts against his old foe Ireland in Cardiff on Saturday.
He will be a reassuringly familiar sight at the Principality Stadium for a generation of fans accustomed to success during his previous 12-year reign.
And while everything has changed since his first arrival, nothing has changed.
Just as in 2008, Gatland is tasked with rejuvenating a national team that collapsed under a popular – but flawed – former Scarlets coach.
Once again Gatland's first move was to appoint a half-back from his Wasps days and a hard-nosed defence coach with a background in rugby league as his assistants.
But while the first time around he had everything to gain, he now has it all to lose.
Gatland is still revered in Wales, even having a set of gates named after him at the Principality Stadium entrance.
He enjoyed the rare fortune in sport of being able to walk away, chest out, chin up, rather than being pushed.
However few coaches or managers – in any sport – are as successful second time around.
Sir Alex Ferguson knew better than to return to Old Trafford, even if his success cast a long shadow.
Gatland knows , which makes the gamble all the more surprising
"I was shocked when I heard he was coming back," admitted former centre Tom Shanklin.
"Maybe he feels there's unfinished business or perhaps he's seen the culture and levels that he brought in go backwards.
"Either way, Warren must have huge motivation because it's a stressful job and he's risking tarnishing his reputation.
"But he will have weighed that all up and knows exactly what it takes to get success, even in a short period of time, as he did in 2008."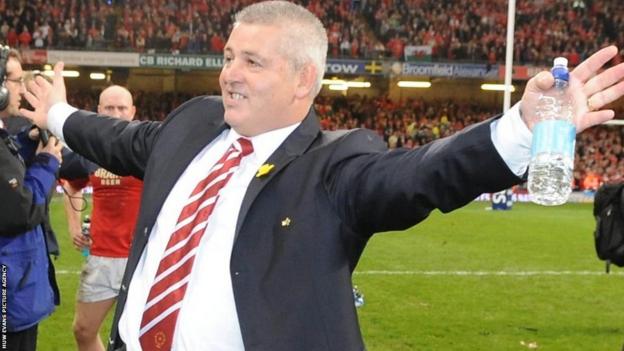 No-one saw Gatland coming 15 years ago and he took the Six Nations by storm – winning a Grand Slam within weeks of taking over.
This time he is firmly in the spotlight with a desperate Welsh public pleading for him to pull off the same trick again.
In his first spell, Gatland did not so much wave a magic wand but a very big stick to solve the issues of the day. Discipline, attitude and to hell with the rest.
He jettisoned a core of senior players and those remaining were pushed to breaking point.
'Big reaction'
No wonder players have spoken this week of a sense of dread before his first training session back in charge, but the results in 2008 were as immediate as they were dramatic.
"Warren starts with a bang. He's likes to get right in there and shakes things up to get a big reaction," said ex-hooker Richard Hibbard, a British and Irish Lion under Gatland in 2013.
"He's not afraid to make big calls so the older guys who he has given the benefit of the doubt need to be on their game."
The need this year is more subtle. He no longer has bulldozers for backs so the guile of attack coach Alex King will be crucial to finding a spark.
King was appointed after a recall for Rob Howley was effectively blocked by WRU bosses, who were nervous about the possible headlines following his 18-month ban for breaching betting rules in 2019.
Oh the irony, after an horrendous past fortnight for the governing body, which has faced a raft of allegations that led to the chief executive standing down and intervention by the Welsh government.
That the WRU had no homegrown alternative for the future and went back to Gatland when Wayne Pivac was sacked is surely an admission of failure.
Should all go well, Gatland could be in post to the 2027 World Cup. By then a Welshman would have led the national team full-time for just three of the previous 30 years.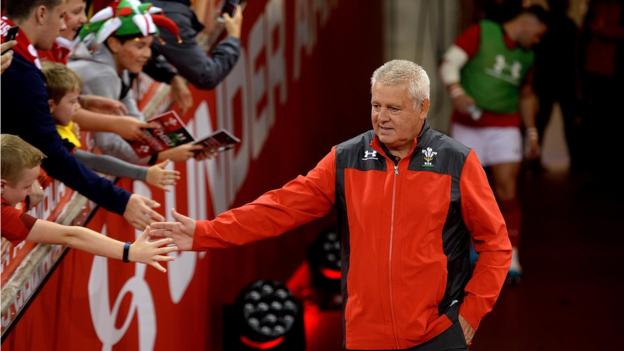 'Easiest decision'
Gatland is guaranteed a rapturous welcome when the team coach winds its way through the red and white throngs along Westgate Street to this weekend's match.
"The way I was treated here by the Welsh public was unbelievable so it was the easiest decision for me to come back," said Gatland.
"They are knowledgeable, passionate and opinionated and I love that.
"We've got a lot to do to get some real support from the Welsh public and we'll go a long way to doing that by giving them a really strong performance and making the fans proud.
"There's lot of pressure, expectation and scrutiny but the emotion is all about the buzz of playing in an incredible stadium with a passionate crowd and the intensity required. When you win, that's where you get the real kick."
Wales became more accustomed to jeers last year at their ground, where they lost for the first time to Italy and Georgia.
Roger Lewis was the man who first brought Gatland to Wales after firing Gareth Jenkins in the wake of the early 2007 World Cup exit, and may have had a hand behind the scenes in his return.
"Warren has a huge affinity to Welsh rugby and was willing to put his neck on the line again in our hour of need," he said.
"The arbiter of success is winning, but there's already a smell of success in the air when you listen to what players, former players, pundits and the public are saying.
"He's already brought back a spring in our step and now we're actually looking forward to facing Ireland."
Gatland joked after that shock initial win at Twickenham that he was a lucky so-and-so.
If Wales topple the world's number-one ranked team this weekend, it will be no fluke.