Sponsorship. 
Seth Fowler graduated from Texas in 1998. Since 2004, he has been helping home buyers and sellers in the DFW Metroplex. Whether new construction, existing homes, investment property, or land, he is your Real Estate Sherpa – guiding you through the process, making it an enjoyable experience. Based in Tarrant County, however, he will help connect you with a quality Realtor anywhere in Texas, the United States, or in the world. When looking to purchase or sell real estate in this new market, call Seth at 817.980.6636.
Primer. 
Texas suffered a difficult loss on Saturday against top-four Tennessee with their record-setting defense, but now we're back into Big 12 play. This means unfortunately that they're immediately going to take on another really, really good team.
None other than no. 11 Baylor is visiting, fresh off of back-to-back wins over Arkansas and Kansas as part of six straight as they skyrocket in the polls behind the brilliance of freshman guard Keyonte George. But before we get to that, let's look at Baylor's season thus far.
Baylor started 0-3 in conference play after losses to no. 11 Iowa State, no. 12 TCU, and no. 5 Kansas State. Since that uncharacteristic three-game skid, Baylor hasn't lost, going 6-0, including 5-0 in conference.
Big 12/SEC Challenge.
Baylor's most recent win, a nailbiter against a very talented (albeit inconsistent and injured) Arkansas team, helped give the Big 12 the edge on Saturday. The highly competitive conference fared extremely well overall in the Big 12/SEC Challenge this past weekend: Big 12 teams won seven of the 10 games, including some real shockers and blowouts.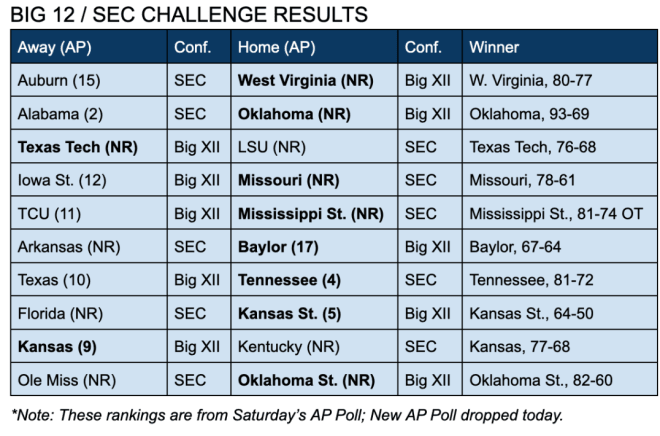 Most notable of these games were unranked Oklahoma's slapping no. 2 Alabama by 24 on a historic day of deep shooting, the eighth-ranked team in the conference, West Virginia, stealing a close one from a top-15 Auburn squad, and conference 0-8 Texas Tech's going on the road and beating LSU by eight points. Just another indication of the elite talent and coaching of Big 12 basketball. All things considered, the Longhorns should be feeling pretty good about themselves and where they currently stand in conference.
All that aside, tonight is a much more important game than Saturday's hard-fought loss. Baylor has dominated this series in recent years, winning six of the last seven in Austin, some of which weren't particularly close.
It can't be denied that Baylor is as good of a basketball program as exists in America, and this year's iteration, though not say on the level of 2021 Baylor, still should strike fear in the hearts of opposing Big 12 teams, as they are by far the hottest commodity in the conference due to their league-leading current win-streak of six.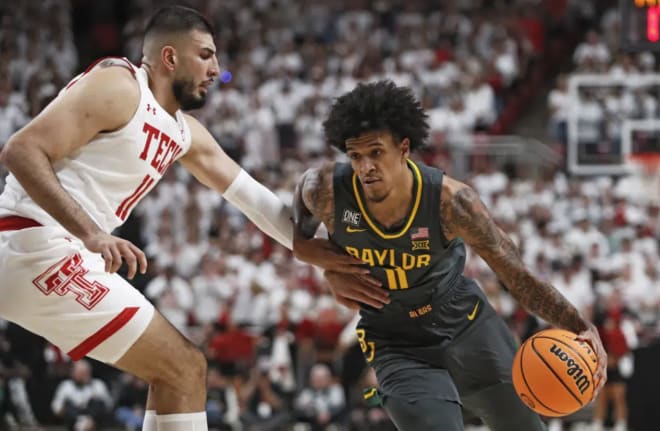 Baylor Offense. 
Baylor's strength is their guard play, as it seemingly has been for years now under the direction of Scott Drew. Enlisting the talents of five-star guard Keyonte George hasn't hurt the ball handler outfit of the Bears' offense, as he's been arguably the best freshman in the country.
Putting up a ridiculous 17.2 points, 4.5 rebounds, and 3.2 assists per game, George is part of a three-headed dragon of excellent guards that Baylor runs with. The other two you'll recognize from older versions of the Baylor Machine: Adam Flagler (15.5 points, 4.8 assists) and LJ Cryer (14.5 points).
Baylor KILLS people from deep, and you can do that when you have the guards that the Bears do. Flagler shoots 42.5% from deep on 7.8 attempts per game; LJ Cryer shoots 40% on 7.6. Even George, though not as efficient as these two, hits nearly 35% on 10 attempts per.
Outside of the Big 3, they start West Virginia transfer forward Jalen Bridges (9.6 points, 5.7 rebounds) as well as big man Flo Thamba (5.2 points, 5.1 boards). While these two players are crucial on the defensive end, they don't provide the offense that the George-Flagler-Cryer crew does on a nightly basis. Their production has Baylor ranked 36th overall in points per game at 78.8, and 25th in the country in made threes per game at 9.2.
The Baylor offense is also excellent at drawing fouls, as they hit 17.2 free throws per game on average, 75% on 23.3 takes. Additionally, they rebound the ball really well on the offensive end, 23rd in the country on nearly 13 per game. While Baylors of the past have been defensive-minded buzzsaws, this iteration of the Scott Drew experience focuses a bit more on the offensive end, or at least the talent shifts it this way.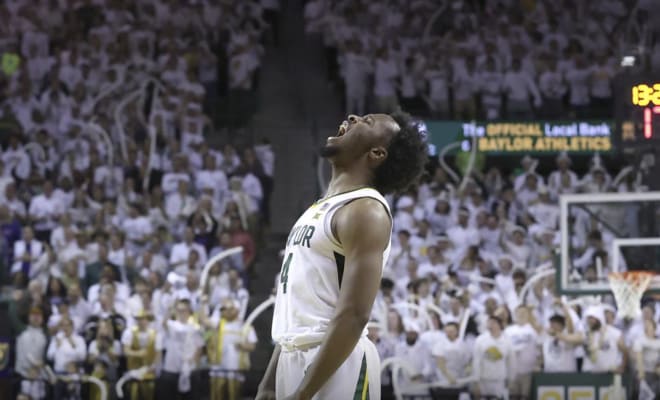 Baylor Defense.
Baylor runs the same defense that practically the entire conference runs at this point: Mark Adams' and Chris Beard's "No Middle," which I've discussed ad nauseam for most of the readers. But since I don't like to leave people out, basically it boils down to preventing dribble penetration, forcing difficult catches instead of easy lobs for inside positioning, and using the sidelines and baselines as "extra" defenders by funneling ball handlers towards the corners by icing ball screens.
It works really well in college, and while Baylor doesn't have the same level of athletes defensively that they have in the past, they still run it to a decent result. They're middle-of-the-pack as far as scoring defense goes, giving up 69 points per versus their scoring 78.8. Overall, their defense just isn't the same defense they've had in years past; while they have good athletes (they always do), it hasn't translated on the defensive end of the court.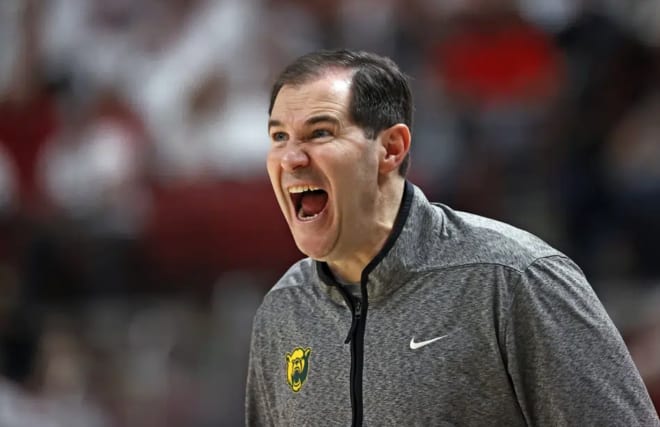 What to Watch for. 
• Texas defense versus Keyonte George.
One of the best offensive weapons in the conference as a true freshman, projected top-five pick Keyonte George is Baylor's best player and an absolute menace to guard. He's a true three-level scorer, a term that gets thrown around quite a bit but seldom applies in full truth. He can hit from deep, mid-range, and he's strong enough to finish though contact at 6'4, 190. Rice and Hunter have shown flashes of good defense this season when guarding opponents' ball handlers, but Texas is going to need their best tonight against not just George, but also his back court mates.
• Who will win the forward scoring battle?
I've talked enough about guard play this article, so it's time to flip to the front court: who will have better forward production tonight? Of Baylor's 78.8 points per game, more than half of it, 47.2 points to be exact (59.9% of overall scoring production), comes from their three starting guards.
Bridges (more of a wing than a forward) is averaging career highs in points (9.6) and rebounds (5.7) and blocks (1.1), while center Flo Thamba adds in another five and five or so, and 6'10 freshman Josh Ojianwuna averages 5.3 and 4.2. If I'm Baylor, I'm throwing the three guards and then my two biggest guys at Texas, which would be Thamba (6'10) and Ojianwuna. I'd hit the post early and often without sacrificing too many of George's touches.
This height may prove problematic for Texas' offensive players: Timmy Allen (6'6), Christian Bishop (6'7), Dylan Disu (6'9) and Dillon Mitchell (6'9) all give height here. Ideally, Allen stays in the midrange for most of this one, and Bishop uses his footwork to get four or six points.
• Baylor strength on the offensive glass.
Baylor is an elite offensive rebounding team, averaging nearly 13 per game, which has them ranked 23rd overall in the country. These second-chance points have been a killer to Texas this year, as we saw in the Tennessee game on Saturday. With Baylor's size in its bigs Thamba, Ojianwuna, and even Jalen Bridges on the wing, Texas may struggle to keep them from offensive rebounding. In a game as tight as this one is going to be, a couple of put-backs could be the difference between a win and a loss. Texas is going to have to box out and play fundamental ball, because if they try to out-athlete Baylor in this particular area, things could go South in a hurry.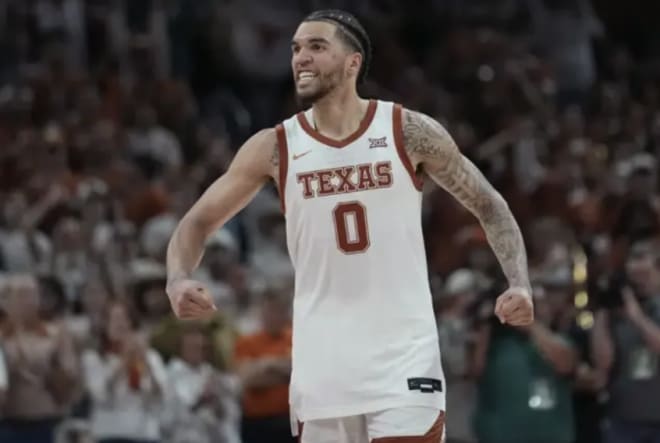 Prediction. 
As much as I like this Texas team, I think this Baylor team is very underrated even at just outside the top 10. I don't know that I can say I would pick them to win it all due to their lacking front court, but a Final Four wouldn't surprise me with the level of guard play they have – it's truly one of the best of the last several years.
I think Scott Drew's experience as a head coach will play into tonight's game versus Rodney Terry's – I'm not even necessarily saying Drew is better at X's and O's, but game experience matters. The Bears will not be riled up when they arrive at the Moody Center tonight.
Pick: Baylor ML (+150)
I think Baylor not only covers, but wins this one outright due to the shooting of their guards. Their win streak will live on, and they will continue climbing towards conference supremacy.