How to Win a Championship: Lose a Dual Meet
By Ron Blanc, Guest Contributor/Santa Margarita Catholic High School Swim Coach
As a boys' and girls' high school coach for 35 years, I have been blessed to coach many championship teams…but only on the girls' side. The boys' run to titles, however, has been filled with bumps and potholes. In 2021, they finally enjoyed their breakthrough season and won the 2021 California (CIF) Division I championship. What made that win much sweeter was a 30-point dual meet loss just a few weeks prior to the championship. The words below detail our lessons learned from losing that dual contest and how it impacted our championship season.
COMING BACK FROM COVID
After the pain of seeing our 2020 season being cut short by the pandemic, 2021 appeared to be our best opportunity to win a ring. We were a young team with four freshmen making varsity, and enough veteran leadership and talent to think this was our time. Over the years, I have learned that winning a championship is more than having talent—it is also about timing: Are other schools also having their "dream team" in the same year as your best team?
We believed our 2021 team was the one to beat. We did our prognosticating and calculated that no team would score as many points as we would at our CIF championship. When we saw the results of a high school dual meet that involved Loyola High School (Los Angeles), we knew there was a new sheriff in town—a loaded Loyola squad.
As it happened, shortly after picking up our dashed hopes, the Loyola coaches contacted us asking for a dual meet. Even though Loyola was uber-fast, we thought that swimming them would be good for our swimmers. Even in defeat, you can learn about being competitive and post best times.
On Tuesday, May 11, 2021, we hosted Loyola. Both teams suited up, but considering we were both weeks from our championship, no one was rested or expecting season-best swims. The opening event, the 200 medley relay, went extremely well for us with our A-team going 1:33.74 and our B-team hitting a 1:36.65. Unfortunately, Loyola out-touched each of our teams, and we were already down 10-4 after the first event.
It didn't get better in the 200 free, as we went 1:39.45, 1:40.06 and 1:43.21—season-best times for our three boys, but Loyola went first, second and fifth to outscore us, 11-5. Loyola's national team member, Rex Maurer, posted a blistering 1:37.09 to win the race.
We made up some ground in the IM, going first, third and fourth, but lost points in the 50 free and gained only two points (9-7) in the fly. When the 500 free finished, we knew we were in trouble. Our boys had phenomenal swims, going 4:32.83, 4:34.36 and 4:36.86 only to see the 13-3 sweep with Loyola taking the top three spots. By the time the final 400 free relay rolled around, our 3:06.85 and 3:11.55 from our A- and B-teams only netted four points, as we saw Loyola swim to a 3:01.01 (in a dual meet!) and a 3:09.84. Final score: Loyola 100, Santa Margarita 70.
While not a blowout, it was a solid defeat. Our CIF championship was just weeks away. Could we make up the 30-point deficit? Did we have enough time to get faster? Was there any possibility that our dream season could result in a victory?
When the CIF psych sheets were published, we looked at the seed times and saw Loyola winning 330-307. Those point totals were based on entry times, but the 23-point deficit seemed insurmountable. We met with our team to go over the predicted score, and our coaching staff asked ourselves, "What do we say to the team?"
We addressed the team, mentioning that a dual meet format favors the team with the elite athletes. In a dual meet, only five places score, whereas in a 16-place championship meet, depth can be a huge difference maker. Sure, going 1-2 nets 37 points, but finishing 3-4-5 is worth 42! We told the team while that may be only five points, over the course of 11 events, we could easily make up the 23-point deficit.
Our boys began to see the possibilities. We had tremendous depth and hoped to out-final Loyola. As coaches, we know the power of hope can transform an uncertain athlete to a powerful one. The team started to realize that a title was within their grasp. We also stressed how each individual had a role to play and the capacity to make a difference. By championship week, our boys were mentally set—and knew they had a chance—until…
A BACKSTORY
Our CIF championship meet was set to take place on Thursday, May 27, 2021, and because of COVID, it was to be conducted in a timed-finals format. Because of the mandated population restriction on the pool deck, only the fastest 16 swimmers or relay teams would swim in the timed finals. However, we did hold one advantage. The meet was in our home 50-meter pool. That was the good news. The bad news was that one of our freshmen, seeded ninth in the 100 butterfly, broke his ankle just days before the meet. The nine points he was scheduled to score now increased our deficit to 32!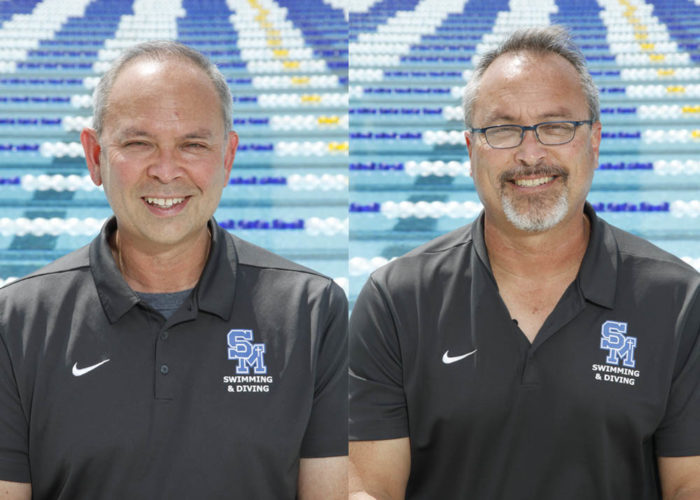 The meet started on two high notes. First, our lone diver placed sixth, giving us a critical 13-0 advantage in that event. Second, our 200 medley relay team set a school-record 1:32.46 to place second and earn us an eight-point bonus over our seed. After giving up some points in the 200 free, one of our sophomores dropped three seconds from his entry time, clocking a school record 1:47.26, to win the 200 IM. We also garnered places 5 and 10.
We gave points back in the 50 free, 100 fly and 100 free. We swam well, but Loyola swam better. Still, we were hanging tough. Loyola pounced on the 500, going first, third, fourth and sixth, but our swimmers dropped six seconds, seven seconds and one second, respectively, and we nabbed the second-, fifth- and eighth-place spots, minimizing the damage.
Entering the second-to-last event, the 100 breaststroke, we were down 11.5 points to Loyola. Our three breaststrokers were seeded in the consols and were set to only score a handful of points. We knew Loyola's 400 free relay was going to win easily and take the 40 points possible, so we had to have an enormous set of swims in this event. Our guys came through in spades. We went ninth, 10th and 12th, and instead of scoring nine "seeded" points, we wrangled 21, going from an 11.5-point overall deficit to a 9.5-point advantage. All we had to do was get fourth in the 400 free relay to win the CIF title.
As the race unfolded we fell to eighth after the first relay leg. Slowly, but surely, we chipped away at the lead, and much to our relief, we finished fourth by 0.8 seconds.
Final score: Santa Margarita 322.5, Loyola 321.
LESSON LEARNED
We truly believe the final championship win would not have happened without suffering the dual meet setback. Our team learned about resilience and the power of hope. When our swimmer broke his ankle, when we lost points in the 200 free and 200 free relay at the CIF Championships, our team didn't flinch. Our swimmers saw the big picture, understood that setbacks were normal and that champions continue to bounce back and keep moving forward.
Our first boys championship was forged from that dual meet loss. That is a lesson I will never forget, and it reminds me that any and all future successes are the culmination of a journey that includes highs—and especially the lows.
* * *
Ron Blanc is co-head coach with his brother, Rich, of the Santa Margarita Catholic High School, where they have enjoyed tremendous aquatic success. In 2022, the Santa Margarita girls were named Swimming World's girls' national high school champions, a title they also claimed for independent schools in 2021, 2018 and 2017. In addition, they were state champions in 2018, 2019, 2021, 2022 and CIF (California) champions from 2014-22 (not contested in 2020). The Santa Margarita boys were CIF champions in 2021 and 2022.
Ron has coach 130 high school All-Americans and 453 All-CIF swimmers and was the National High School Coaches Association Coach of the Year in 2014; Rich was so named in 2022. Both were selected by the NFHS as California State High School Coaches of the Year this past year: Rich for boys, Ron for girls. Both were honored as NISCA Outstanding Service Award winners in 2017.
setTimeout( function () {
!function(f,b,e,v,n,t,s){if(f.fbq)return;n=f.fbq=function(){n.callMethod? n.callMethod.apply(n,arguments):n.queue.push(arguments)};if(!f._fbq)f._fbq=n; n.push=n;n.loaded=!0;n.version='2.0';n.queue=[];t=b.createElement(e);t.async=!0; t.src=v;s=b.getElementsByTagName(e)[0];s.parentNode.insertBefore(t,s)}(window, document,'script','https://connect.facebook.net/en_US/fbevents.js');
// init window.fbq('init', '1467300236903193');
// track window.fbq('track', 'ViewContent', { category: 'partner', subcategory: 'swimworld', domain_name: location.host, });
window.fbq('track', 'PageView');
}, 2000);