DRIVER GROUP 1 – Nyck De VRIES (AlphaTauri), Fernando ALONSO (Aston Martin), Nico HÜLKENBERG (Haas), Oscar PIASTRI (McLaren), Logan SARGEANT (Williams)
Q: Fernando, let's start with you. Time flies: your 20th season in Formula 1. How are you feeling? Fresh, ready to go?
Fernando ALONSO: Yeah, feels good. I think it's always the same feeling for race one, where you obviously prepare over the winter, and we have less and less testing these days and you feel maybe not 100% ready with the car, especially if you change team. You need a little bit more time to adapt to many new things. But it's the same for everybody. So let's go.
Q: Let's start by talking about the car. A lot of laps last week for you. What sort of condition you feel you're in? There's some good long-run pace, isn't it?
FA: Yeah. I mean, you never know what the others are doing, so basically you concentrate on your programme. And let's see after this race, basically after Jeddah or Australia, I think very different circuits, where I think you will see more where everybody is. But yeah, I think we aimed to make a step forward compared to last year. Obviously, Aston Martin went through some difficulties with the car and some things that they discovered throughout the 2022, so I think this year we have a better baseline, and we are happy so far.
Q: Fernando, what have you found at Aston Martin? Just tell us a little bit about the team and how you perceive your role inside the team?
FA: I think this is a very ambitious project. What I've found is very talented people, people who want to succeed, want to win in the near future. So that was a very nice surprise and you know everyone is pushing in the same direction, knowing how difficult it is going to be the task. But, as I said, I think ambition is the word.
Q: Fernando, you say it's going to be a difficult task. But can you win a race this year? Mission 33?
FA: I don't know. Difficult to say right now.
Q: OK. Look, final one for me. Can we get a word on the changes to the end of the Barcelona lap? You race those two quick corners back in 2006? Do you welcome that change?
FA: Yes, that's the good thing about experience. I will be the only one. I think I raced on that layout for a few years, but I don't know, with these cars, how it's going to feel. Some of these guys probably they've been testing in winter with old cars there. So maybe they can give you an update on this.
Q: Nico, coming to you now. Great to see you back in Formula 1 on a full-time basis. After three years away, is your approach any different this time around?
Nico HÜLKENBERG: Not really. I think the approach is similar, but you know, I just feel refreshed, reset, you know, very positive and in a good state of mind, you know, ready to go again. Obviously, I've done a couple of seasons, so I know what's coming. I know what to expect. And just really ready and keen to start the thing.
Q: Now last time we saw you in Formula 1 on a full-time basis you weren't a dad but you are now how's that changed things for you?
NH: I haven't noticed any change so far, to be honest. And I doubt that there will be a big difference in feeling. Yeah, that's all I can say. Awareness now, it's very much the same. So let's see how it goes after a couple of races.
Q: Talking of feeling, what kind of feeling are you getting from the new car?
NH: Firstly, you know in testing it's important for driver to kind of connect with the car, to have a good feeling with it. To build a good foundation and harmony. And I feel that's what I've done and achieved in the limited time, like for us all. That feeling is obviously going to grow better and stronger race by race, because testing was not huge. I think the midfield is very, very competitive and tight once again. We say that every year but it's actually always the case and small things I think can have a big impact and make a big difference. I believe we were somewhere in the midfield as well. It can be very track-dependent if you're the upper end or the lower end, but yeah, it's our job obviously to maximise what we have and score results.
Q: How is it going to feel on Sunday as the lights go out?
NH: It's going to feel great.
Q: And how are you and Kevin rubbing along together?
NH: Oh we are rubbing. Rubbing and tugging and hugging and everything. We actually, you know, sort of broke the ice here 12 months ago when I stepped in for Seb. There's this driver picture on Sunday morning and we happened, you know, to be standing behind each other and I sort of, you know, [thought] it's time to break the ice and reached out with a hand and with a smile and put his words into his face. And that's where our relationship actually started, 12 months ago, and ever since, you know, it's actually been pretty good. We've been hanging out a bit over the winter, in the UK, doing some marketing and media stuff. And yeah, so far, so good. I feel no tension or friction between us. He's a dad, too. So we're both in similar positions in our life. And looking forward to working alongside him.
Q: Fantastic. Now, Nico, can you remember how you felt at this race back in 2010, ahead of your debut? What advice have you got to the guys on your right?
NH: I think they don't need advice. I think they all know what they're doing. Obviously, they've all done the junior stuff. This is just the biggest stage. But there have been educated to come to this point. But of course, you're going to be probably a bit more nervous than on your usual day. But it's the start of a long journey for most of them. It's a long road. It's a big learning curve, a big process. So yeah, all the best and enjoy.
Q: Well, Nyck, tell us. How are you feeling? How emotional a moment is this for you?
Nyck DE VRIES: Well, I think it's very obvious that this is a very special moment, obviously I had the opportunity to already kind of experience it and to get a first taste in Monza last year. But now I'm ahead of my first official season in Formula 1 and I'm very much looking forward to it. We had a very long lead-up time and I've been preparing since a long time. So it's time to get started. And it feels good to be here.
Q: Now, you've raced in Formula 1 once before, at Monza last year. How does that experience help you now?
NDV: I mean, I think all my experience in the previous racing I've done helped me to become who I am today, and certainly Monza broke the ice a little bit. But equally, this is a kind of new experience, because this is my first expected Grand Prix whereas Monza was certainly not. So it's just a bit different, but all very exciting. I've been around here for a couple of years. So it feels like home and I know everyone pretty well. So yeah, time to get over racing.
Q: It was difficult to get a read on AlphaTauri's pace last week in testing. What can you tell us?
NDV: I think it's difficult to get a clear read on everyone. I mean, the top group is pretty clearly defined, but everything in the midfield is so close that it's difficult to know where you are in that group. And as Nico already touched on, I think it will shuffle around a little bit from weekend to weekend, depending on the track characteristics. So I guess Saturday night we will know where we are here in Bahrain and perhaps in Saudi we might be in a slightly different place within that group. But I am hopeful that we are competitive. But equally time will tell where we are.
Q: Thank you. Enjoy it. Oscar, coming to you now. Race one just around the corner. I guess this is a moment you've dreamt of for a long time?
Oscar PIASTRI: Yeah, definitely. It's been about I think 12 years since I started racing. So everything up until that point has led to now. So yeah, to be calling myself a Formula 1 driver and preparing for my first race is a special feeling, definitely.
Q: And how eager are you to get back racing after sitting out last year?
OP: Yeah, I think having that year out I definitely gained a newfound appreciation for how much I enjoy going racing. Even in the bad times it's still better to have those bad times than have no times at all, I learned. So yeah, I think I've come back with probably more hunger, I would say, than previously. And now that we're here on the grid, it's just a great feeling. And I'm looking forward to getting stuck in.
Q: You say no time racing last year. But did you do any karting to keep you keep you sharp or any? I don't know, long-distance racing?
OP: Long-distance racing. I don't know how you do that. Do you mean like sim racing?
Q: What did you do to keep yourself sharp?
OP: Oh, endurance racing! Sorry, I thought you meant like long-distance relationship racing. I was really confused! Anyway, don't worry! I did some testing last year, like quite a lot of testing by myself on track. But it's obviously not the same as having other people around you. It's hard to be in a competitive environment. I did a bit of sim racing here and there, on my sim at home, but it's very hard to replicate the real thing without properly going racing. So, yeah, I tried what I could But yeah, I'm looking forward to going back this weekend.
Q: And where are McLaren do you think? Talk us through the last three days of testing?
OP: I think we're, like Nyck and Nico said, we're probably somewhere amongst them. Obviously, the test wasn't the smoothest. But I think you know, we'll get a better understanding of where we're at come tomorrow. And yeah, I think we're somewhere in the midfield. And we'll see exactly where we are on Saturday night.
Q: Just to answer Fernando's question from earlier when you were driving the old car at Barcelona. Did you do the last two corners flat out?
OP: No, I didn't. I think it will be close. It's a fast couple of corners.
Q: Did you try that layout though?
OP: I did try that layout a little bit. Yeah, for me, it's much better than the last chicane, it was was quite a slow, clunky sector. So I think going back to those last two corners it's definitely going to add some excitement. And for me, it's a much better layout.
Q: Alright, Oscar, many thanks. Good luck to you. Logan, thank you for waiting. So race one for you as well. How different is your first Grand Prix to all of the other races you've done in your career so far?
Logan SARGEANT: Well, obviously, as Nico said, it's on a much bigger stage. But other than that, I feel like it's really just business as usual. Now, it's a bit more juggling preparation and media. But to be honest, you know, I feel very happy with where I was in the test. And I feel comfortable in the car. I feel like I've laid a good foundation and a base to work from so I'm relatively relaxed heading into tomorrow.
Q: You completed three race distances on one day last week. How much of a step up was that for you?
LS: It was a lot of laps. But to be honest, I feel like that just gave me more confidence of you know, the work that I put in over the off-season to physically be ready for this moment. And, you know, to get through a day and a half, two hundred and something laps completely unfazed was a good feeling. And yeah, leaves me in a good head space going into the season.
Q: Tell us a little bit how you're working with Alex Albon. Is that going well? Is he giving you any advice?
LS: Yeah, you know how drivers are, they keep a little bit to themselves. But no, I think he's probably the most open and honest teammate I've ever had. Super nice to work with. Obviously, a lot of experience and super quick. So it's also really good reference for me. But within the team, I feel like it's such a healthy environment, everyone's working towards the same goal. And, yeah, I feel like I'm part of the family after the past year and a half.
QUESTIONS FROM THE FLOOR
Q; (David Croft – Sky Sports F1) Welcome everybody, I hope you all had a great winter. Fernando another winter where you were preparing to be a Formula 1 racing driver. This time, though, you are going to be racing on the same grid as someone that wasn't even born when you made your debut, in Oscar Piastri. So how does that make you feel – old or privileged to still be going?
FA: No privileged. Privileged to still drive here, better than ever. I have no concerns on age yet. I will be the first one to feel it, when I lose something, when I miss something while driving or not being motivated to travel or to wake up in the morning and train or just come here for testing like last weekend. So far I only see advantages because I know this track in many different conditions. I know the car, I know the tyres. As I said before, some of the circuits that we will drive this year I've been driving already in the past so yeah, I don't see a disadvantage.
Q: Does changing teams give you fresh motivation?
FA: It gives always, because you meet new people, new philosophies of racing, you know, how they approach the weekends and the car design and so on. But at the same time, it gives you an extra challenge, for sure, when you have to learn everything from zero and make the new seat, all these things that normally if you stay with the same team winters are a little bit more relaxed.
Q: (Alex Kalinauckas – Autosport) A question to Fernando, please. Fernando, I think I'm right in saying, after your crash in Melbourne last year, you had a sort of a bit of damage to your wrist or your hand, it was certainly strapped up for a number of races. Given your teammate's injuries, I just wondered, could you give us an explanation of how difficult it is to drive a modern F1 car with an injury in that area? Or is it a non-issue with power steering and things?
FA: Well, I think they are very different things. So I don't know exactly what Lance has, and it's a private thing that you can ask him. And he will check on the car, obviously. I think it's already very good news that he's here and he will try. That shows, you know, his desire to win and his motivation to win with this team one year, and you know, this is even fighting for whatever position we can achieve this weekend – he's here and ready to try it. So that's a very good sign. In my case, yes, I broke few bones in both hands last year, so until August, I was not fully recovered. I had some pain, but we love driving.
Q: (Edd Straw – The Race) Another one for you, Fernando. Last year, you condemned the abuse that Silvia Bellot got after the US GP online for that penalty. And the FIA has just released a detailed report about online toxicity and hate speech. How much worse do you think this has got over the years in terms of the abuse of lies around online? And have you seen at least a little sign of improvement in recent times when they've been attempts to tackle this?
FA: I think so. I think we are getting better as a sport in many, many areas. And I think on this topic, there is always never enough. But I think we have a good leadership right now. And we are in good hands. So I think we are moving in the right direction.
Q: (Dieter Rencken – Racing News 365) Question to Oscar. I'd like to turn David Croft's question around and ask you how you feel about racing somebody who, on paper at least, is old enough to be your father. Do you feel respectful or privileged?
OP: Yeah, I think for me, it's a privilege to race against Fernando obviously. I grew up watching him. My first go-kart ever was a Fernando Alonso kart, actually. I've also worked with him quite closely last year, as well. So yeah, for me, it's a privilege to race against him. On paper, sounds a little bit strange to be starting… For Fernando's career to be longer than I've been alive but yeah, it's a big privilege to race against someone like Fernando.
Q: Fernando, did you know that Oscar's first car was a Fernando Alonso kart?
FA: Yes. Oscar. Daniel Kvyat, Carlos, Lando. Yeah, a few of them.
Q: (Niharika Ghorpade – Sportskeeda) Fernando, I know you mentioned before that you don't know where exactly where Aston Martin stand in the pecking order, given the pre-season test data. But if you had to be in the top three, do you think you can re-establish a new order by the end of the season? And do you think you'll be you're capable or you're ready to fight the Championship?
FA: No, I don't know. As I said before, I didn't change my thoughts in the last seven minutes. So, I have no idea where are we in terms of a position but, I don't know, this car, the aim was to make a step forward, which I think we did. It was very encouraging, the results from the test and the feeling from the car. But this is just the start. This car will change dramatically during the season. That's the plan. Again, I heard from the team that two-thirds from this car will change during the season. So, you know, we want to have a good baseline, a good platform to develop the car during 2023 and maybe fight for something bigger next year. But step by step.
Q: (Ronald Vording – Motorsport.com) Question to Nyck. Yuki, he just told us the technical feedback you give to the team differs quite a bit from what he feels in the car and what he wants from the car. He said it could be down to you building the confidence in the car, or just different driving styles. I wanted to know what's your take on that? And secondly, do you agree with him that the low-speed corners are still the main area of improvement? Thank you.
NDV: It's still quite early days, I would partly agree with what he said. Still, as a team, we have obviously areas to work on like everybody else. I think, as I already touched on earlier, the midfield is very close. But we always have areas that we need to improve. And I think this track might not be necessarily the best for our package, where it is at the moment. But that's, you know, part of the game, we will continue to work on those and hopefully get better.
Q: (Matt Coch – speedcafe.com) Oscar, one for you, just curious to find out how the relationship with Lando is and how you're getting on? What sort of data you're sharing, is he taking a leadership role with you, or are you just two blokes dressed in orange?
OP: I think the relationship with Lando has been good so far. I think we've both got very similar ideas on what we need to improve. So, I think in terms of a working relationship, it's been very good. Obviously, he's got a bit more experience in Formula 1 and with the team as well. So yeah, naturally that helps with the direction of the team in the car, but I feel like we're both making very similar comments, which is good. And yeah, we've been getting along well, we've done a fair bit of marketing activity together in Papaya, as the team at McLaren will correct you, so yeah, it's been good so far and I think we'll have a good working relationship as well.
Q: Do you play golf?
OP: Not yet. But if it's in my best interest to be on Zak and Lando's good side, I should probably start.
Q: (Carlos Miguel – Marca) A question for Fernando. Fernando, there are thousands of people in Spain, believing that this Sunday, you can stay on the podium, and they're anxious with the season. What's your message for your fans in Spain?
FA: There is nothing really to say you know? We will give our best on the race. But doesn't… that's not the target for us, to be honest. I think we need to keep learning about the car, only one day and a half or two days of testing on a completely new car, new package. And I think the top three teams, they were in another league last year; they were lapping you know, sometimes even the fourth team. And basically, you know, only seven cars finish on the same lap. So, we cannot make that kind of step only in one winter. I think we are very happy with the car. But I think we have to have the feet in the ground and keep working on on this good baseline.
Q: (Joost Nederpelt – NU.nl) A question for Nico and Fernando. When you're in your rookie season, like these guys, and you don't really have a good car, how do you still make a name for yourself as a driver.
NH: Well, if you're not motivated in your first year, I think then there's a serious issue in the first place. Obviously, that's you know, first year you're still young, you've been through all the junior series, you've been fighting to get where you want to and then you finally reach your first goal which is to be in F1, to be on the grid. So even if you don't have the best car, which is almost never the case for anyone, you still just out there, giving it your everything, fighting for every bit of tarmac, trying to obviously leave a good mark and do some great advertising for yourself to change that very fact.
FA: Same.
Q: (Luke Smith – The Athletic) A question for the three rookies. You've risen to F1 at a time when drivers have been much more aware and in touch with social issues around the world and wanting to use their platforms to talk about some of these topics. How much is that on your mind as you embark on your rookie season? I know you want to focus on the job at hand and maybe not rock the boat but how much are you thinking about wanting to talk up about issues as we go around the world?
LS: I think from my side, as you said, we are extremely busy getting ready for the season, trying to be as well-prepared as we can be. And at the moment, that has to be my main focus. And, you know, I think these issues do you need to be addressed and it's something that I necessarily don't always have all the facts to. So, at the moment, it's just focusing on the races.
OP: I think similar to Logan. At the moment, we're obviously incredibly busy betting ready for our first F1 race. I think the issues are obviously incredibly important and need to be spoken about at the right time, and addressed. But I think at the moment, though, yeah, I think we've probably all got our hands very full with what we've got. But when the time is right, of course, we'll speak about these important issues.
NDV: I echo what Logan and Oscar already mentioned.
Q: (Louis Dekker – NOS) For Fernando, a respected Dutch driver who won Le Mans mentioned the quote: "the car doesn't know my age. Doesn't know how old I am." How many years do you feel you have left to clinch a third title?
FA: I don't know. Eight? Ten?
Q: (Pedro Fermin – The Good Flores) A question for Fernando, please be honest…
FA: Five!
Q:  Question is which is your secret for to look fitter and younger every day? Because I remember you in Australia 2001. What is your real secret Fernando?
FA: I don't know. I keep motivated always to compete. Even when I tried to stop Formula 1 in 2018, I couldn't make it and I was in different cars every weekend, with the World Endurance Championship, or Dakar, or Indy or whatever.  So yeah. This. When I came back to Formula 1, for sure, I decided that I had to sacrifice other things in life and dedicate myself for another period of time. Maybe three, maybe five, maybe seven or whatever years, to the sport. So yeah. I don't know. There are no secrets. You know, you dedicate your life to your passion. And yeah, you know your body better as well, so you train better, you eat better. So, you make your career longer.
Q: Fernando, is it a love of driving or a love of competition?
FA: Competition! I will not drive in a test for longer.
Q: (Thomas Maher – Planetf1.com) One for you. Fernando. Lance's back as your teammate this weekend. Have you had a conversation with him about the car? And what have you told him about the car?
FA: Yep, sure, I mean, we've been in contact from day one. So Lance was updated on everything during the test. We used to speak with him in lunch breaks and also in the evening sessions. He was at the simulator the last few days as well. So giving us feedback. So yeah, we were on the same page, basically on real time.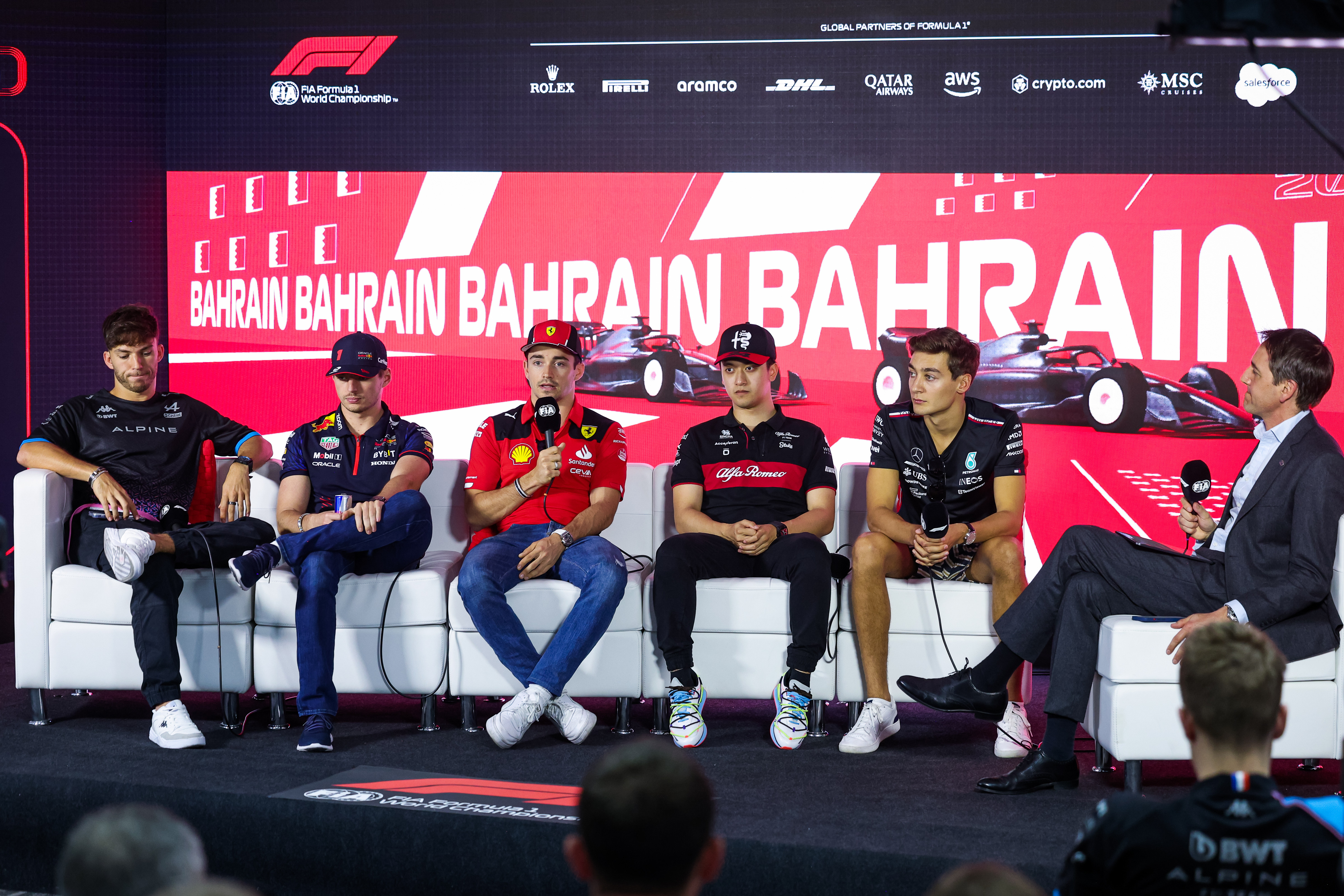 DRIVER GROUP 2: Zhou GUANYU (Alfa Romeo), Pierre GASLY (Alpine), Charles LECLERC (Ferrari), George RUSSELL (Mercedes), Max VERSTAPPEN (Red Bull)
Q:  I'm going to start with George Russell. George, how are you? What's the mood in the camp?
George RUSSELL: I guess the mood in the camp is good. It was a good test, we learnt a lot. I think we learned that obviously Red Bull are looking really, really strong. But equally, we feel like we've got a lot of room that we can improve. Probably brought up a little bit more pace this weekend after the learnings of testing. But it's going to be for sure a challenging weekend if we want to try and fight for that victory. But we probably knew that ahead of season, starting off where we do.
Q: Now, you started last year slowly, you then ended it strongly. Have you been able to carry that momentum over the winter?
GR: Yeah, I think the fact is, we'll find out this weekend where we fall out. I think testing is obviously a good indication for all of us. But the fact is, until we get to qualifying, and we get to the race, we'll have no idea. And I think some teams were surprising, how their performance was. I think some teams were very fast on a single lap. Some teams look faster in the long run. But I think it's important to remember we all try and design a car that's fastest across the 23 race season and Bahrain is definitely a bit of an outlier. So, I don't think the picture of this weekend will be the full picture for the whole season.
Q: But for Mercedes, it was a test last week of fluctuating fortunes, wasn't it? Day Two was problematic. What does that tell us about the car?
GR: I mean, it probably wasn't the smoothest three days we could have hoped for. But I think the lessons we learned from the test… I went back to the to the UK I was on the simulator and the learnings, the findings we found I think is going to put us in better stead for this weekend. But I think it's definitely fair to say Red Bull are in a bit of a league of their own this weekend here in Bahrain, but I think it would probably be a nice fight for second place, probably between Ferrari and Aston Martin.
Q: Now, George, it's year two for you at Mercedes. How do you feel you've grown as a driver over the last 12 months?
GR:  Yeah, I think last year was a really good year for development and understanding how a team like Mercedes operates. They work on such a high level, the engineering talent they've got there is exceptional and I feel fortunate being in a team such as this. So it's a new year, new challenges, new opportunities and looking forward to see what we can we can do this year.
Q: Feet firmly under the table now?
GR:  Absolutely.
Q: Zhou, coming to you now. Year two for George at Mercedes, year two for you in Formula 1. Just how different does the start of this year feel to last year?
Zhou GUANYU: Feels massively different. Obviously compared to George, I think it's a completely different Year Two, but I really felt like getting to know the people at the team, also getting to know this car, to push the one-lap pace, the race craft has been improved throughout the testing, compared to '22. And yeah, overall, it's been quiet few days of testing. This time last year I think I wasn't too sure about everything, but now I feel more ready than ever – so hopefully it will be a good one.
Q: You've had a winter to reflect on last year What's the biggest thing you learnt in 2022?
ZG: It's more like how to be a complete F1 driver. Because when you watch from outside of the World, even in the other paddock, in F2, you really don't feel the pressure, that the drivers are feeling these days. So last year is really about a compromise of mental strength, how you faced the outside world, how you face your team. You have to obviously do well on track, and also off track, there's so much stuff you have to take care of. So yeah, it's always a massive curve of learning progress throughout the season and I really feel like much stronger now. So hopefully continue to grow up and improving.
Q: And in terms of race one, what are your goals? Can you repeat that amazing points finish on your debut last year?
ZG: It was a great memory this time, you know finishing first race in the points and that's definitely the target. We felt like we have a package in the team that can be fighting again with the midfield guys. And everyone's very tight like always, with this battle, but it seems to be like we were able to make a step, considering the second half of the season last time. So yeah, definitely the points I think is the minimum target we're aiming for this weekend and will be nice to, you know, get a top eight finish. That would be amazing.
Q: Charles, if I could come to you now. You were Max's closest challenger last year. So very simple question to you. Can Ferrari go one better this year?
Charles LECLERC:  Well, that's the goal. For sure. They've had a strong start, Red Bull, and Max seems to be very, very strong. It's only testing, so it's difficult to quantify by how much but it seems that they are a bit in front, compared to us. So we've got some work to do but it's only the beginning. But the goal is definitely to go one better.
Q: Tell us a little bit more about testing last week, did you keep your powder dry? Did you not reveal your hand? How much of Ferrari did we actually see?
CL: I'm not going to say! We didn't show everything – but Red Bull didn't show everything. Nobody showed everything. We will only see in Qualifying. So yeah, it's very difficult to know exactly how we are. But global picture just tells me we are maybe a bit behind.
Q: 'A bit behind' but 12 months ago, you won this race from pole position, just how much of a lift is that for a team? How important is it to start your season on the front foot like that?
CL: It's important, but as we've seen last year, it's not everything. And the development throughout the season is as important if not more. So yeah, I think we've had anyway very good testing in a way, that we did a lot of laps, we didn't have any reliability problems. And we did all the tests that we wanted to do in order to do all the scan that we wanted to do on the on the car, which is really, really important. So the tests were positive. Now to see exactly where we are compared to the others. We'll have to wait.
Q: Max, coming to you, you're looking relaxed. That to me is the sign of a good winter and a fast racing car.
Max VERSTAPPEN: Yeah, but it's not related to the car. I think it's important to always be relaxed.
Q: You had a good winter, what did you get up o?
MV: Yeah, it was good to spend a bit of time with family and friends and enjoy it a bit. Try not to think about Formula 1 too much. Yeah, spend a bit of time at home at some point as well. And get ready for racing again.
Q: Now everyone on this sofa – we haven't spoken to Pierre yet but I'm sure he'll agree – thinks you are the pre-season favourite. What do you make of it?
MV: We had three really good days. I think also just in general, the progress we made over the winter was very good. But we have to, of course, show it this weekend. But not only this weekend, of course, from there onwards, you continue to develop. And every track is also a bit different in terms of behaviour of the car. But yeah, the test days were good for us.
Q: Where is this car better than last year's?
MV: Everywhere. That's the aim. I mean, you always strive to improve it. It feels nice. Well balanced, of course. Every team, of course, lost a bit of performance with the floor. But you always tried to gain that back, in a way. So you have to, of course, find a bit of a new balance of the car. But it's been good.
Q: And where do you see the main threats coming from this season?
MV: Of course, the teams close to us. But also, I think, at the end of the day, from ourselves, because we have to stay on top of things and we cannot afford to make too many mistakes. I mean, we're not robots, everyone makes mistakes, but you tried to minimise it.
Q: Pierre, thank you for waiting. So, new colours for you this year. What does it mean for you to race for Les Bleus in Formula One?
Pierre GASLY: Les Bleus. Well, I must say I'm very proud, you know. Obviously, it's a special feeling to race for a French team and especially a French team which is based less than an hour away from my hometown. I know Alpine since I'm a little kid and there have been always particular links with Alpine and Renault and now it's the proper start of our journey together.
Q: How different is the ambience at the team compared to AlphaTauri where you were last year?
PG: Well, it's slightly different. AlphaTauri, as you know, is full of Italian people who have a bit more of the Italian culture. I will say Alpine is a mix between French and English and maybe slightly more international. But so far I've been really happy how the team welcomed me and the way we've been working, so I'm feeling pretty much home already. Everybody's really focused on the season that is coming and looking forward to seeing what we're going to be able to achieve.
Q: What can you achieve because it was very difficult to get a read on Alpine during the test last week.
PG: One thing I can say is that we're going to be faster than during the test. But where exactly, I don't even know myself. So I think, yeah, we're pretty confident, there were definitely positive signs of performance during the test and we haven't pushed with the softer compound but we know that the package is there. The season hasn't started yet so it was mainly about understanding which directions we want to take. But yeah, we'll be in the fight but I expect more answers or clear answers about the everyone's performance on Saturday.
Q: And there are reports that you've got upgrades coming this weekend. Is that the case?
PG: Yeah, minor.
QUESTIONS FROM THE FLOOR
Q: (David Croft – Sky Sports F1) Charles: a new team principal, new boss for yourself? I don't know if you felt that there was a need for a new team principal at Ferrari or not. But what does Fred Vasseur bring to the team? And what impact has he made so far from your perspective?
CL: Well, it's still very early days but I think what Fred is really, really good at is to extract the best out of the people by putting them in the best conditions. And this… we can already see some benefits so that's great. Then again, it was his first three days on track last week, so it's still very early days and we still need to see. I'm pretty sure he will discover much more things and see how the team works on a race weekend starting from tomorrow, so still early days, but at least it feels good. And it was impressive to see how well he got at ease with such a big team straightaway so that was important too.
Q: (Fred Ferret – L'Equipe) To Charles and Max: What have you been doing since Saturday night? Was it relaxing day or already working for the first Grand Prix?
CL: I relaxed. I relaxed. I came yesterday and before yesterday for like 45 minutes so to catch up with the engineers and try to speak a little bit about the weekend ahead, but mostly relaxing.
Q: What does that mean, Charles? Golf? How do you relax?
CL: I actually didn't do much. Just relaxing basically. No, I played padel. I played tennis.
PG: We want the score.
CL: Padel is a pretty good one. I think. I mean, I think. I won. I know I won. Tennis? I would prefer not to speak about it. I broke my first racquet before yesterday because of the frustration.
PG: Ah, you were very relaxed.
CL: Tennis made me a bit anxious, but padel was good.
Q: Thank you. Max, What have you been up to?
MV: Just seeing some friends at a few little meetings for things outside of Formula 1. I had a boat day, ate a lot of food. Yeah, it's been good. We had to stay around anyways, so I have a few friends living here, it's always good to catch up.
Q: I think we should open this up. We know George went back to the UK to get on the simulator. Zhou, what were you doing since Saturday?
ZG: I was in the Jacuzzi. No, I have one in the hotel where we stayed so yeah, we played some padel, some squash, but yeah, unfortunately yesterday I lost every game in the padel.
Q: So you weren't playing Charles.
ZG: I wasn't. We were going to play but I watched him on the courts and I was like, yes, but I don't join him. Otherwise, I think I'll break some racquets.
MV: I forgot, I did some go karting too.
Q: Here at the…?
MV: Yeah, the go-kart track at the circuit…
Q: Pierre, come on quickly, what have you been doing?
PG: Yeah, eating, suntanning and yeah, broke one padel racquet as well so I'm part of the club. Won one game, but…
MV: You need a racquet?
PG: Lost a racquet. I got a spare. I know myself, so I got spares already.
Q: (Andrew Benson – BBC Sport) George, Charles and Max. George, taking into account what you said about Bahrain being an outlier: if Red Bull are, as many in the paddock seem to think, at least half a second a lap quicker than everybody else this weekend, what realistic reason is there to believe that they can be challenged this year?
GR: Yeah, I think the way you saw our development last year with Mercedes was pretty, pretty spectacular over the course of a year. I think even the improvements we're going to probably bring to the car this weekend compared to the test will take us a step closer. But as I said, it's a very unique circuit here in in Bahrain. I'll be surprised if the gaps are that large at other circuits but you know, I trust in our team and if we develop at the same rate as we did last year, we're definitely starting from a higher point. But I think the good thing is here there's not too many races at the start of the season so it gives us some time to develop in the windtunnel and back at the factory to fight for when the main block of races come.
Q: Same question to you Charles.
CL: Yeah, again, I think on half of a second, it's still too early to say and also during testing, depending on at what time of the day you are doing the lap time it is very difficult to judge so we'll wait and see to see how far off we are. But having said that, I also believe fully in my team and in the upgrades that we are bringing. We have a view of what we are bringing in the next few months, and it looks positive. So yeah. And by focusing on ourselves, I'm sure we will do a great job.
Q: Max, do you feel you're in a better place this year than you were this time last year?
MV: Yeah, 100%. But our car was a bit fat last year so naturally, it's in a much better window and what you have learned throughout the whole year, last year, I think, gives you a much better understanding of the car. Sure, that naturally makes it better but that doesn't mean that we are satisfied. I think we're never satisfied, you always want to do better and we want to put improvements on the car, which we will do.
Q: (Alex Kalinauckas – Autosport) Again, a question to Max, Charles and to George, please. There's been a lot of interest in how well the Aston Martin was running throughout testing. I just wondered, based on what your teams have been saying to the three of you what do you think the green cars could achieve on Sunday or this weekend overall?
MV: Yeah, they looked very positive. In general, if you look at the team, they have a real desire, of course of getting to the front. They've hired I think quite a lot of good people. So it will be interesting to see where they will be but also not only now, it's in the coming races and years, but I think they had a very positive start.
CL: Yeah, I think they will be in the mix. They will definitely fight at the top at least, I think
GR: Yeah, nothing more to add, really.
Q: (Niharika Ghorpade – SportsKeeda) Charles, there have been changes apart from a new team principal, there's a new head of strategy and surely many others. How different has it been in the coming into this season? And is it a relief that there have been serious measures taken after a disappointing season last year?
CL: I mean, yes, there's been a few changes but again, I wouldn't want to comment too much on that. We are trying to do what's best for the team. Fred came and already saw a few things. It's again too early to judge too, because these things are affecting the race in itself so we'll see and time will tell whether these were the right choices.
Q: (Ian Parkes – New York Times) George, if you are to join Red Bull's league, if they are in a league of their own at the moment, what do you need to see on the car and what do you need to feel from the car for you to be able to bridge that gap?
GR: Naturally, everybody's always looking for more downforce. And I think the tricky thing with these new regulations of cars… is trying to get the car as low as possible and gaining that downforce, probably being a little bit more efficient in the straight line Red Bull have been very strong generally speaking in their drag, I think we may have made a small step improvement this weekend so I hope that is reflected in the speed traps and that's almost a bit of free lap time. But you know, I think we need to trust in our process. Mercedes have built a World Championship-winning car for eight seasons in a row. We've still fundamentally got all of the same guys there and they haven't just forgotten how to build a fast race car. I think we were obviously on the backfoot following the challenges of the W 13 but I absolutely believe as the season progresses, we're definitely going to close that gap. And there's no reason why we can't fight as the season hots up.
Q: (Ronald Vording – Motorsport.com) Max, last week, we heard some rumours about AlphaTauri and yesterday, Franz Tost said that the team is not for sale. You obviously started in the junior team. Just how much of a benefit has that second team within the same company been to you? And how vital is it for the way Red Bull operates in Formula 1?
MV: Well, it gave me a chance to start in Formula 1 in the first place and it also gave me that next opportunity to jump into the main team. Probably without the second team I wouldn't have had that start in Formula I in 2015. So for me, it was very beneficial.
Q: Pierre, can we put that to you as well?
PG: Yeah, I think it's been… Red Bull, the programme, I think we brought the most young drivers in the entire history of Formula 1, I think so. No, it's definitely an important place on the grid, gave the chance to Max, to Daniel, Carlos, myself, many of the guys that are on the grid today. So I think it's been working really well in that way. And Franz has been always there since day one, and always gave his very best to make it work for all of us. No, definitely very beneficial for the entire Red Bull team.
Q: (Scott Mitchell-Malm – The Race) Max with the weight that's been taken out of the car, how much of a difference has that made to your driving? Have you had to adjust to it? And can you do things better than you could last year? Or is it a case of you can do the same things, but maybe a bit easier?
MV: Mainly that was the issue in the beginning of last year. I think throughout the year last year that improved already a lot. So this car, for sure, has a few different things on it but from the start, it felt much more to what I liked, of course so at the end of last year.
Q: (Silja Rulle – Bild) George, what has it been like so far working with Mick Schumacher as your reserve driver in the team?
GR: Yeah, obviously, early days, but Mick's really integrating well into the team. He's really willing. He's helping wherever possible. He was out on track quite a lot last week, just watching and analysing how the cars seemed off track and feeding that back into engineers and doing the necessary work in the simulator. So he's been a real benefit, a real help to us. And yeah, I hope he gets his chance back in Formula 1 next year, but if he keeps on putting in the work, he will get that opportunity again, for sure.
Q: (Phuong Nguyen Viet, K+ Vietnam) George, last year you had one race win for Mercedes with a car that wasn't good enough. This year, the car has been much more comfortable. How many races do you think you will get on top?
GR: That's a very challenging question, I think. You know, when we look at where we were this time last year, we had so many problems with the car that we didn't know how to resolve. We thought we'd resolve them a little bit quicker than we did, maybe after six races we thought we would resolve them but realistically, it took until probably Austin maybe, until we took a big step forward. And now we're starting from a base which is fundamentally a lot better than we were last year. So I think, if we managed to achieve a race win last year, starting from such a low, low point, there's no reason why we can't achieve more victories but as I said, it's a relative game. Red Bull are looking really strong and we've got a little bit of catching up to do.
Q: (Cezary Gutowski – Media CEG) George, like you did win the Mercedes on your race last year, you did won the pole position. You beat Lewis in the standings. How does it make you feel in terms of an intra-team challenge battle with Lewis this year?
GR: Yeah, I think those stats against a guy like Lewis are pretty, pretty irrelevant. He's achieved 100 and more poles and victories, and last year was a very challenging car to drive. For sure, I was pleased with my own personal performance. I think the qualifying pace was, at the end of the year, we were basically on identical race pace, maybe something I want to improve slightly. And I probably improved that towards the end of the year compared to Lewis, but you know, he's just an animal and he just keeps on fighting. He keeps on going. And you know, he never gives up. So I think he's going to come back fighting even more last year. And yeah, I'm excited to have that challenge. But ultimately, the two of us are looking for the top step of a podium, but not just the number one spot in the team.
Q: (Alex Kalinauckas – Autosport) George, just thinking back to the data of the test last weekend, and what went wrong with the balance of the car which seemed to sort of disappear? Is there any concerns of the team that this might be another Mercedes that's a bit of a diva, as it has been talked about in the past, to sort of get the set up right, to keep the balance happy? Or have your investigations sort of suggested that's going to be okay.
GR: No, I think we had a really good time between the test and the race to analyse what happened throughout the test. There were a few things going on with the car that we didn't quite expect but we've been able to resolve pretty easily. It was just working in slightly the wrong window. So we'll put that… changing for this weekend, we were running a different rear wing in the Bahrain test just for some correlation work and that wasn't an optimal rear wing for Bahrain either so there's definitely positive signs but I'm not going to sit here saying we're going to find that lap time deficit to Red Bull, but I'm definitely sitting here in a more comfortable place than I probably was on Friday night.
Q: (Alan Baldwin – Reuters) Charles, when you sit next to Max and you hear him say that his car is better everywhere, I just wonder, can you say the same about your car because for Max, it sounds like a pretty confident statement?
CL: On our side, I think we did kind of a compromise and we took a direction by choice. Straight line speed was probably a weakness last year, I think we focused on that a bit more and we gained some of it, losing a bit of speed in the corners. But overall, I feel like we've done a good job and all the weaknesses that we had last year I improved so on that I'm confident that it's a better car. Than how much, we will see in qualifying on Saturday?
Ends